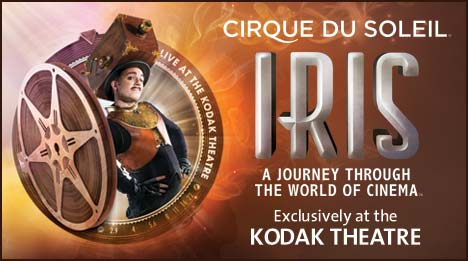 Cirque Du Soleil. IRIS: A Journey Through the World of Cinema.
It's been running at The Kodak… er… Dolby (whatever!) Theatre since September 2011 with a promised 10-year run, but last month it was announced that the final performance will be January 19th. Just slightly short of the goal. Seems like the perfect time for a review and really, the perfect time to catch the show if you've been holding off.
I'm not a Cirque Du Soleil enthusiast nor expert. I recently saw my first Cirque show in Vegas and was entertained, but not overwhelmed. I purposely waited to see Iris in LA until I was able to see a "REAL" Vegas Cirque show, so as not to ruin the experience?!? These are the thoughts that go through my head. It's not hard to gather from the data that this may not be a life-changing show. Surely you are tempted to skip the rumored high-ticket price and head to the usual Arclight movie when searching for entertainment in Los Angeles. Iris may not be the event of the decade, but in it's current position, it may be an event worth taking in. Let me explain.
If you've never seen a Cirque Du Soleil show, do not be tempted to follow the previously mentioned thoughts of my head. You do NOT need to see a Vegas Cirque show over this Los Angeles production. After seeing the two shows that I've seen, I'm going to say that a Cirque show is a Cirque show is a Cirque show (with the obvious exception of the under water show). You can spend hundreds of dollars in Vegas… or you can squeeze in a performance during the last few weeks of their run in LA for a bargain price. There are discounted tickets EVERYWHERE. And depending on the night you go, you could end up having brilliant seats for that low price.
This particular show is supposed to be a journey through the world of cinema. I can't honestly tell you that I got much of that with the exception of some costumes, set pieces and some not-so-funny comic bits. Exploring the various show themes isn't the reason to see these shows. You go to see the spectacle (Iris was $100,000 million in production and theatre renovation expenses) and the highest caliber contortionists, trapeze artists, acrobats, aerialists and trampoline artists. I'm not even sure you go for the clowning, but maybe. This particular show was written and directed by Philippe Decoufle. The music (performed by a handful of musicians, live in the box seats) was by Danny Elfman. I don't have amazing or terrible things to say about either gentleman. I think this is a standard Cirque Du Soleil show. The talent is high, there is usually more amazing tricks going on at any given moment than you can possibly take in. You will be dazzled and amazed just when you are ready to check your watch or yawn. If you haven't had the opportunity to experience a Cirque Du Soleil show, you should seize the opportunity to not have to take out a lien on your house to do so. If you are one of the Cirque Du Soleil'd out, save your precious time no matter the bargain price of the ticket. And if you are a faithful Cirque fan… go. Why not?
LA may not be a theatre town. Tourists didn't come running. But for all the reasons above, or even if you would like an inside look at the home of the Oscars and geek out for a bit… put on some nice duds, go grab a martini at Musso and Franks and head to the show. With the right frame of mind, you can't go wrong.
The Dolby Theatre
6801 Hollywood Blvd.
Los Angeles, CA 90028
(Hollywood and Highland)
Tuesday-Sunday thru Jan 19th
Purchase Tickets
look EVERYWHERE for discount tickets. (for the love of GOD!)